Projekt Arboretum

Concert invitation!
Projekt Arboretum in Australia
Special edition for PolArt 2018 Brisbane Festival
December 30, 2018 | 7:30 PM
Redland Performing Arts Centre,
2/16 Middle St., Cleveland QLD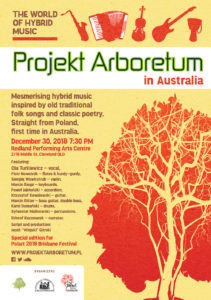 Projekt Arboretum is inspired by forgotten folk songs and dances of rural areas of the old and present Republic of Poland. Some of them were written down by outstanding ethnographers, including Oskar Kolberg, others have survived handed down from generation to generation.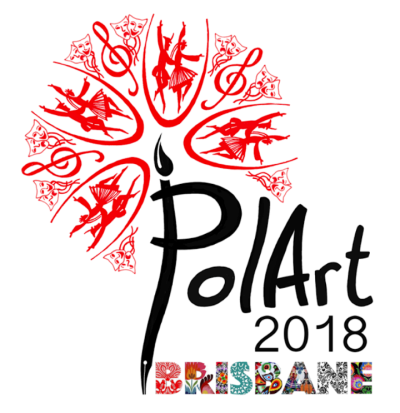 The repertoire of the international edition of Projekt Arboretum in Australia presented during PolArt 2018 Brisbane Festival will include contemporary arrangements of traditional songs from the Warmia region. The contemporary compositions inspired by the culture of the Yotvingians, ancient inhabitants of north-eastern Poland, will be also presented. This extraordinary music, called by its creators as the hybrid music, will be accompanied by a story about a simple human life from many centuries ago, sometimes with a pinch of a fairy tale atmosphere.
Projekt Arboretum presents traditional village songs and dances of the past in an innovative way. The members of the group present seemingly simple folk notes, arranging them into hybrid compositions. They use modern means of expression, such as jazz, ethno, alternative and progressive rock, as well as sung poetry, electronic and classical music.
The performer and artistic director of Projekt Arboretum is Ola Turkiewicz, a Polish-Canadian singer, composer and culture animator. She will be accompanied on stage by an international group of jazz, ethno and classical musicians. Piotr Nowotnik (flutes and hurdy-gurdy), Siergiej Wowkotrub (violin), Paweł Jabłoński (accordion), Marcin Riege (keyboards), Krzysztof Kowalewski (guitar), Marcin Ritter (bass guitar, double bass), Karol Domański (drums) and Sylwester Malinowski (percussion).
Narrator: Kristof Kaczmarek
Script and production – Jacek Górski
Projekt Arboretum in Australia repertoire.
1. When the spring will break through
original: Kiedy przebije się źródło
Composition and vocal: Ola Turkiewicz
Lyrics: Kazimiera Iłłakowiczówna
2. Fly my voice over the dew / To love & to loose
original: Leć głosie po rosie / Kochać i tracić
Composition and vocal: Ola Turkiewicz
Lyrics: compilation of old masurian song & poem by Leopold Staff
3. Tell me the news a little bird
original: A ty ptasku krogulasku
Old traditional masurian song
Arrangement and vocal: Ola Turkiewicz
4. The yotvingian underwater road
original: Kūlgrinda
Contemporary composition: Krzysztof Kowalewski
5. Which road will you take Jasiek
original: Kani ty Jaśku
Old traditional masurian song
Arrangement and vocal: Ola Turkiewicz
6. A gall was writing a letter to Jasiek
original: Pisała dziewcyna do jasiecka listek
Old traditional masurian song
Arrangement and vocal: Ola Turkiewicz
7. The female walking dance
original: Chodzony niewieści
Old traditional masurian dance
Arrangement: Ola Turkiewicz
8. A thistle stood by the road
original: Stoi łoset kole drogi
Old traditional masurian song
Arrangement and vocal: Ola Turkiewicz
9. The shuffling dance
original: Podcinacz
Old traditional masurian dance
Arrangement: Ola Turkiewicz
10. Arboretum
original: Arboretum
Contemporary composition: Krzysztof Kowalewski
11. She looked out of the window
original: Wyjrzała łoknem
Old traditional masurian song
Arrangement and vocal: Ola Turkiewicz
12. Wyszymory i Brzeginie
Contemporary composition about wood and lake creatures.
Composition, lyrics and vocal: Ola Turkiewicz
13. Pretty blue eyes, go to sleep now
original: Modre uocka jidźta spać
Old traditional masurian lullaby
Arrangement, lyrics and vocal: Ola Turkiewicz
14. From the diary – birds' flights are humming
original: Z dziennika – szumią ptaków loty
Contemporary composition and vocal: Ola Turkiewicz
Lyrics: Bolesław Leśmian

Event organisers

See more