Projekt Arboretum

Concert invitation!
Projekt Arboretum, special edition "Masuria and Podolia"
XVI International Jazz Festival "Flugery L'vova" and the Lviv City Day 2018
Market Square/Eastern side, Lviv, Ukraine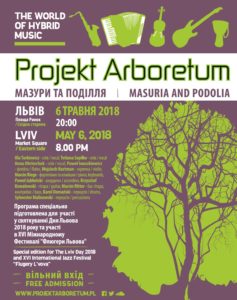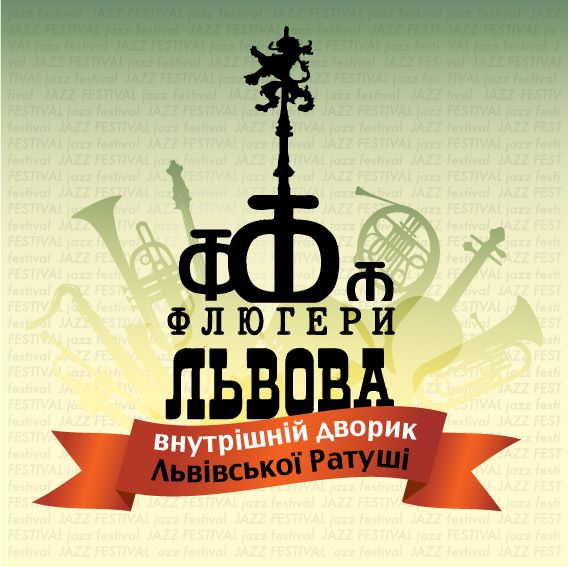 Old, and mostly forgotten songs and dances from the Masuria and Podolia region became the inspiration for the international premiere of the Projekt Arboretum, produced especially for the International Jazz Festival "Flugery L'vova". Some of them were transcribed by prominent ethnographers, such as Oskar Kolberg. Others have been passed down from generation to generation and nowadays Polish and Ukrainian ethnomusicologists and enthusiasts draw inspiration from the former "masters".
The Arboretum Project presents, in a novel way, extraordinarily beautiful, traditional old folk songs and dances. Members of the ensemble present seemingly simple tunes, incorporating them into hybrid arrangements. At the same time, they also reach for the contemporary means of expression, such as Jazz, Ethno, Alternative and Progressive rock, as well as Sung Poetry, and Electronic or Classical Music. Additional source of inspiration are Bukowinian and Podolian roots of Ola Turkiewicz and Jacek Górski, creators of the Projekt Arboretum. For five years, Ola and Jacek have been producing the Arboretum Project at the amphitheatre on Czos Lake, located in Polish Masuria, called the Land of a Thousand Lakes. Ola and Jacek are also the creators of the Polish Independence Concert, the cyclical musical project produced since 2009 and performed, among others, in the Warsaw Rising Museum, at the Royal Castle in Warsaw, and at Westerplatte in Gdansk.
Ola Turkiewicz, a Polish – Canadian vocalist, composer and cultural animator, is also the artistic director of the Arboretum Project. She will be accompanied on stage by the special guests of the "Masuria and Podolia" edition – vocalists of the Ukrainian ensemble "Drevo" – Tetyana Sopilka (ethnomusicologist) and Ganna Ohrimchuk. The ensemble also consists of prominent Polish session instrumentalists: Wojciech Hartman (violin), Paweł Iwaszkiewicz (ethnic flutes), Paweł Jabłoński (accordion, keyboard instruments), Marcin Riege (composer, piano, keyboard instruments), Krzysztof Kowalewski (composer, guitars), Marcin Ritter (bas, contrabass), Sylwester Malinowski (percussion instruments) and Karol Domański (drums).
The Arboretum Project, at "Flugery L'vova" festival, is being carried out at the invitation of Mr. Marek Iwaszczyszyn and Dzyga Art Association from Lviv.
Producer and scriptwriter of the Arboretum Project – Jacek Górski
The repertoire of the Polish – Ukrainian edition of the Arboretum Project "Masuria and Podolia".
1. Z tamtej strony jeziora
Masurian traditional song
Vocal: Ola Turkiewicz
2. Ой там в лісі на кленку
Podolian traditional song
Vocal: Tetiana Sopiłko & Ganna Ohrimczuk
3. A ty ptasku krogulasku
Masurian traditional song
Vocal: Ola Turkiewicz
4. Зачепиха
Podolian traditional dance
Vocal: Tetiana Sopiłko & Ganna Ohrimczuk
5. Kani ty Jaśku
Masurian traditional song
Vocal: Ola Turkiewicz
6. Ой летіла качечка
Podolian traditional song
Vocal: Tetiana Sopiłko & Ganna Ohrimczuk
7. Pisała dziewcyna do Jasiecka listek
Masurian traditional song
Vocal: Ola Turkiewicz
8. Kiedy wódkę piją
Masurian traditional dance
9. Ой не літай перепілка вночі
Podolian traditional song
Vocal: Ola Turkiewicz
10. Скопаю я грядочку (веснянка хороводна)
Podolian traditional song
Vocal: Tetiana Sopiłko & Ganna Ohrimczuk
11. Wyjrzała oknem
Masurian traditional song
Vocal: Ola Turkiewicz
12. Arboretum
Contemporary instrumental
Guitar: Krzysztof Kowalewski

Funding

Event Organisers

Partners of the concert:
Projekt Arboretum and XVI International Jazz Festival "Flugery L'vova"

Media patrons

Partners of the XVI International Jazz Festival "Flugery L'vova"

Technical support

Zobacz także